15th International Enology Symposium Proceedings
Of The International Association Of Enology
Franco France
75,00 €
Franco tous pays
90,00 €
| | |
| --- | --- |
| Auteur(s) | Non |
| Nb pages | 130 |
| Année d'édition | 2008 |
| Langue(s) | Français, Anglais, Allemand |
| Autres versions disponibles | Aucune |
| Récompenses | Non |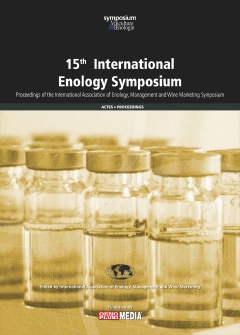 Preface
Dear members of our enological society.
Dear presenters, dear exhibitors, dear ladies and gentlemen!
Our Association for Enology, Winery Management, and Wine Marketing now can look back at more than 40 years of existence. It grew from an idea first formulated in 1966 from to find solutions for wine making, winery management and wine marketing not only in a national forum but to develop them in an international exchange. Following this idea, the purpose of our association is to find, test, and disseminate scientific knowledge around wine growing and wine production, the optimization of all ist technological processes through to wine sales.
In order to achieve this goal, the Association organizes every three years an International Enological Symposium. Even if it is commonly assumed that during a symposium, participants get together and drink wine – which is also true – the primary goal is to participate in a scientific meeting in which to share information to further optimize wine quality world wide.
After more than 26 years, the 15th International Enological Symposium is back in Germany. The last symposium to be hosted in Germany was held in Mainz in 1981. With the selection of Trier we not only selected one of the oldest cities in Germany but also a region which holds the oldest traces of wine production in Germany.
During our symposium, here in Trier, the wine with all its many facets is the center point. The topics presented include the entire complex from grape and wine production to wine marketing, seen from diverse wine producers around the world.
In addition, participants will have the opportunity to learn more about the wine growing region of Mosel-Saar-Ruwer as well as to see the wine region of Luxemburg. In the evening of the first symposium day to taste diverse wines from the wine region of Mosel and Luxemburg.
I am certain that the opportunity to meet with experts from various wine growing countries around the world, to discuss and exchange Information, to taste and enjoy some wines together will help to better understand each other and to further optimize wine quality. With these thoughts I would like to welcome all participants to the 15th International Enological Symoposium and thank all who have worked so hard to make this event a succes.
Wishing you all a very pleasant and successful time in Trier!
Preface
Cher(e) s membres de notre association d'œnologie,
Cher(e) s intervenants, Mesdames, Messieurs,
Notre association d'œnologie, de gestion d'entreprise et de marketing a parcouru plus de 40 ans. Elle a pris naissance en 1966 d'une idée non pas uniquement pour élucider des questions d'œnologie, gestion d'entreprise et commerce du vin au niveau international, mais pour échanger sur le plan international et pour trouver des solutions aux différents problèmes.
Les statuts mentionnent bien l'utilité de l'association sur la recherche, le contrôle et la communication des connaissances scientifiques autour du vin en partant de la production avec l'optimisation de procédés d'élaboration jusqu'à la commercialisation.
Pour atteindre ce but, l'association organise tous les trois ans un Symposium International d'œnologie. De façon générale on peut penser que ce type de symposium réunit des personnes, qui boivent du vin – ce qui est juste – mais le but est un colloque scientifique sur une thématique du vin, qui doit participer à optimiser la qualité du vin sur le plan mondial.
Le vin avec ses multiples facettes est au centre du colloque de Trèves. Les thèmes évoqués concernent l'étendue de la production jusqu'à la commercialisation de l'œil de différents pays producteurs dans le monde. Il est possible de découvrir la région de la Moselle en Allemagne, comme également le petit mais attirant pays du vin qu'est le Luxembourg. Lors de la soirée du premier jour du symposium ses régions permettront de faire connaissance de leurs vins lors d'une dégustation.
Je suis sûr, que l'occasion de rencontrer des femmes et des hommes du vin d'autres pays de la terre, de discuter ensemble, d'échanger et aussi de déguster et de savourer du vin va permettre de mieux se comprendre et d'optimiser la qualité du vin.
Dans cet esprit je souhaite sincèrement la bienvenue à tous les participants de ce 15ième Symposium International d'œnologie. Je remercie tous ceux qui ont participé au succès de cet événement et je vous souhaite un agréable séjour à Trèves.
Preface
Sehr geehrte Mitglieder unserer önologischen Vereinigung,
sehr geehrte Referenten, sehr geehrte Damen und Herren !
Unsere Vereinigung für Oenologie, Betriebsführung und Weinmarketing kann nun schon auf über 40 Jahre zurückblicken. Sie hatte sich im Jahre 1966 aus der Idee entwickelt, Fragen zur Oenologie, Betriebsführung und Weinvermarktung nicht nur aus nationaler Sicht zu klären, sondern auch, im internationalen Austausch nach Antworten und Lösungen zu suchen.
Entsprechend ist der Zweck unserer Vereinigung die Ermittlung, Überprüfung und Verbreitung wissenschaftlicher Erkenntnisse rund um den Wein, von seiner Erzeugung, über die Optimierung der technischen Abläufe bei seiner Herstellung sowie Vermarktung in unserer Satzung niedergeschrieben.
Um dieses Ziel zu erfüllen, führt die Vereinigung im Abstand von 3 Jahren ein "Internationales Oenologische Symposium" durch. Wenn auch allgemein angenommen wird, das es sich bei einem Symposium, um eine Zusammenkunft von Personen handelt, bei der Wein getrunken wird, was auch zutrifft, im Vordergrund steht aber eine wissenschaftliche und themengebundene Tagung, bei der dazu beigetragen wird, künftig die Weinqualität weltweit weiter zu optimieren. Nach über 26 Jahren findet nun das 15. Internationale Oenologische Symposium wieder in Deutschland statt. Die letzte in Deutschland stattgefundene Tagung war im Jahre 1981 in Mainz. Mit der Stadt Trier als Tagungsort haben wir nicht nur die älteste Stadt in Deutschland ausgewählt, sondern auch eine Region, in der die ältesten Spuren des deutschen Weinbaues zu finden sind.
Bei unserer hier stattfindeten Tagung steht der Wein mit seinen vielseitigen Facetten im Mittelpunkt. Die Themen umfassen den gesamten Komplex von der Erzeugung bis zur Vermarktung, aus Sicht der verschiedenen weinerzeugenden Ländern der Welt. Darüberhinaus besteht die Gelegenheit das Weinbaugebiet Mosel besser kennenzulernen und auch einen Blick in das kleine aber feine Weinland Luxemburg zu werfen. Am Abend des ersten Sympsoiumstages besteht die Gelegenheit Weine aus dem Gebiet Mosel und Luxemburg vielfältig zu verkosten.
Ich bin sicher, die Gelegenheit des Treffens von Fachleuten aus den verschiedenen Weinländern der Welt, die miteinander diskutieren, sich austauschen und auch zusammen Wein verkosten und genießen, wird dazu beitragen sich gegenseitig besser zu verstehen und zu einer Optimierung der Weinqualität beitragen.
In diesem Sinne, möchte ich die Teilnehmer an unserem 15. Internationalen Oenologische Symposium recht herzlich begrüßen, allen danken, die zum Gelingen dieser Veranstaltung beigetragen haben und einen angenehmen Aufenthalt in Trier wünschen.
Heinz Trogus
Präsident
CONTENTS
Viticulture in the Mosel Valley
Wilfried Zipse
Tradition und Zukunft – erfolgreiche Weinstile für die Steillagen-Riesling-Weine der Mosel
Dr. Gerd Scholten
Zwischen Weinfest und Exportboom Moselwein im deutschen und internationalen Markt
Ansgar Schmitz
The Luxemburg vineGrowing area on the Mosel
André Mehlen
Development of commercial yeast strains that produce no detectable hydrogen sulfide
Studies on the origin and sensory aspects of atypical aging in white wines
Thomas Henick-Kling, Chris Gerling, Tim Martinson, Terry Acree, Alan Lakso, and Lailiang Chiang
Vermeidung der "untypischen Alterungsnote" im Wein
Martin Geßner
The microbial ecosystem in the winery surface environment: wine spoilage microorganisms occurrence in relation to sanitation practices
Lorenza Conterno, Ekaterina Simova-Samuelian, Naomi Porret, Jürg Gafner, Randy Worobo, Thomas Henick-Kling
Untersuchungen zur Entfernung von TCA und TBA aus Wein
R. Jung, V. Schaefer, A. Bernd, M. Christmann, S.Fischer, M. Hey, D. Rauhut
Untersuchungen zur Sauerstoffdurchlässigkeit alternativer Weinflaschenverschlüsse
C. Schuessler, M. Steinschulte, R. Jung
Establishing A Molecular Genetics For The Wine Yeast Kloeckera apiculata (Hanseniaspora uvarum)
Frauke J. Bink and Jürgen J. Heinisch
Einsatz von Trockeneis und Flüssig-CO2 zur Kaltmaceration in der Weiß- und Rotweinbereitung
Jörg Weiand
Sofa®: new alcoholic fermentation simulation software
C. Gerland, O. Ciosia, J-M. Sablayrolles
« Programmierter Zelltod » bei Weinhefen Saccharomyces cerevisiae als Ursache für Gärstörungen
M. Grossmann, M. Lederer, C. Von Wallbrunn
Timing of Inoculation with Malolactic Starter Cultures
A tool for fruit driven low ph white wines and security in high pH red wines
Sibylle A. Krieger-Weber
Wine aroma and flavour development by Oenococcus oeni during malolactic fermentation
Eveline Bartowsky, Peter Costello, Jane McCarthy, and Sibylle Krieger-Weber
Reduction of acetaldehyde levels in wine
Nick Jackowetz, Amélie Dubé Morneau, Nicolas Terrade, and Ramón Mira de Orduña
Entfernung von Wildhefen und spontanen Milchsäurebakterien mittels Tiefenfilterschichten
Günther Geiger
Ein Weintropfen geht auf die Reise
Eine multimediale Präsentationsform in der Kerzenfiltration
Thomas Wagner, Dieter Speh, F&B, E. Begerow GmbH & Co.
The influence of management practice on vine carbohydrate reserve accumulation and vine productivity
Bruno Holzapfel and Jason Smith.
The evaluation of colour and phenolic composition of:
Merlot, Shiraz, Cabernet Sauvignon and Pinotage grapes and wines from different quality commercial vineyard blocks
H. Van der Merwe, H. Nieuwoudt, WJ. du Toit
Oenologische Verfahren zur Herstellung von ökologisch erzeugten Weinen
Vorschläge und bisherige Ergebnisse des EU-Projektes ORWINE
D. Rauhut, M. Werner, C. Micheloni, R. Zironi
Einsatz von Eichenholz-Chips Erfahrungen und Perspektiven
Jürgen Sigler
Untersuchungen zur Produktendkontrolle und Identifizierung von Hefen bei in Deutschland gehandeltem Wein
M. Lederer, M. Menke, J. Muno-Bender, C. Von Wallbrunn
« Auswahlkriterien » bei der Zulassung neuer önologischer Verfahren
Monika Christmann & Fachgebiet Kellerwirtschaft