The Composition of Musts Influence on Stuck Fermentations
Franco France
35,00 €
Franco tous pays
40,00 €
| | |
| --- | --- |
| Auteur(s) auteurs | Colloque Lallemand N°5 - Geisenheim 1995 |
| Nb pages nb_pages | 96 |
| Année d'édition anneedition | 1995 |
| Langue(s) langues | N/A |
| Autres versions disponibles versions_disponibles | Aucune |
| Récompenses recompenses | Non |
| Franco France price | 35,00 € |
| Franco tous pays price_expo | 40,00 € |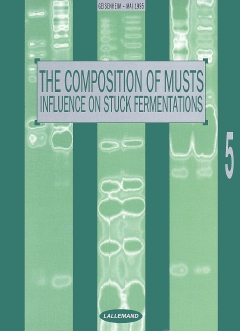 PREFACE
Stuck fermentations remain a major concern to œnologists. Their causes are manifold and as yet are not precisely defined.
Nevertheless, the research in œnology has highlighted the importance of the musts composition on both the kinetics of fermentation and the occurrence of stuck fermentations. This has permitted us to devise strategies in order to limite the occurrence of these phenomenon.
LALLEMAND has gathered international specia]ists on this subjcct as to review knowledge in this area. Tools and hints were proposed to the profession on how to reduce the risk of stuck fermentation, especially with white wines.
The forum was organized at the Institute of Geisenhelm, Cermany, on the occasion of their 100th anniversary. LALLEMAND, as the leader of dry wine yeast production, is proud to publish in this book of reference the text of the lectures given.
SOMMAIRE
1. Sluggish and stuck fermentations : some actual trends on their physiological basis
(J.M. Salmon - Institut Supérieur de la Vigne et du Vin - France)
2. Nutrients, yeast hulls and proline in the wine fermentation
(W.M. Ingledew - University of Saskatchewan Saskatoon - Canada)
3. Sluggish and stuck fermentation. Effectiveness of ammonium-nitrogen and oxygen additions
(J.M. Sablayrolles - Institut Supérieur de la Vigne et du Vin - France)
4. Analysis of yeast metabolism in order to prevent sluggish or interrupted fermentation in relation to the quality of wine : ph.r. Uvarum (S6U), ph.r Cerevisiae (S1C)
(Ciofli G., Garofolo A., Lo Scalzo R., Cedroni A. - Istituto Sperimentale per l'Enologia Asti - Italy)
5. Identification of O-Aminophenols as secondary metabolites of saccharomyces yeast during fermentation by synthetic medium
(Ciofli G., Garofolo A., Di Stefano R. - Istituto Sperimentale per l'Enologia Asti - Italy)
6. The influence of yeast strains on hybrid aroma
(T. Hühn, W.R. Sponholz - Research Station Geisenheim - Germany • S. Bottero - University Torino - Italy • E. Kallinikidou - University TEI - Athens)
7. Survey of available nitrogen for yeast growth in New York grape musts
(Henick-Kling T., Edinger W.D., and Larsson-Kovach I.M. - Department of Food Science and Technology, Cornell University - USA)
8. Use of oligo-strain yeast cultures to increase complexity of wine aroma
(M. Grossmann, H. Linsenmeyer, H. Muno and A. Rapp - Research Station Geisenheim - Germany)
9. Changes in grape must microbial flora as affected by winemaking operations before yeast inoculation: an investigation on 12 wineries in Trentino (North Italy)
(A. Cavazza - Istituto Agrario di S. Michele • C. Zini - Càvit, Cantina Viticoltori)
10. Properties and differences of commercial yeast strains with respect to their formation of sulfur compounds
(D. Rauhut, H. Kürbel, H.H. Dittrich and M. Grossmann - Fachgebiet Mikrobiologie und Biochemie - Geisenheim)
11. Influence of nitrogen compounds in grapes on aroma compounds of wines
(A. Rapp - Bundesansalt für Züchtungsforschung an Kulturpflanzen - BRD • G. Versini - Istituto Agrario - Italia)
12. Effect of fermaid addition to white grape juice on the behavior of several commercial yeast strains
(Gianni Trioli - Lallemand - Italia)
13. Fermentations: Problems, solutions and prevention
(J.R. Morris, G. Main and R. Threlfalli - University of Arkansase - USA)
14. Impact of glucose-fructose-ratio on stuck fermentation: practical experiences to restart stuck fermentations
(Jürg Gafner and Martin Schütz - Beverage Microbiology, Federal Research Station for Fruit-Growing, Viticulture and Horticulture - Switzerland)