Distilled beverage industry fermentation technology
Franco France
35,00 €
Franco tous pays
40,00 €
| | |
| --- | --- |
| Auteur(s) auteurs | Colloque Lallemand n°2 |
| Nb pages nb_pages | 95 |
| Année d'édition anneedition | Non |
| Langue(s) langues | N/A |
| Autres versions disponibles versions_disponibles | Français |
| Récompenses recompenses | Non |
| Franco France price | 35,00 € |
| Franco tous pays price_expo | 40,00 € |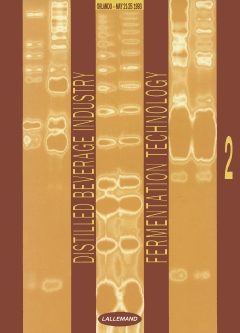 PREFACE
The diversity of fermented beverages and the distilled spirit made from them is as varied as the communities of people that produce them. The Whisky of Scotland, Vodka and aquavit of Northern Europe, Cognac of France, Soju and Sake of the Orient, Rum of the West Indies and Tequila of Mexico and Picso of South America are made from fermenting many forms of carbohydrate for people to enjoy.
In recognition of this enormous industry Lallemand devoted the Orlando Conference as a forum for the exchange of knowledge and ideas on the production of these distilled beverages, and in particular the role of yeast in the fermentation.
Lallemand was fortunate to gagher together researchers and technical staff from many industries qualified to speak on yeast nutrition, fermentations and other metabolites, yeast genetics and methods of production. The report of this symposium offers a reference for those wishing to learn more about distilled beverages and a guide to Lallemand as to the future requirements of yeast properties and fermentation nutrients to better serve this industry.
Paul MONK
Lallemand Australia
CONTENTS
1. The fermentation of sorghum to produce palatable beers
(Franck Lynch - Gbw Research Centre)
2. Amylolitic Yeasts
(Graham Stewart - Labatt Breweries)
3. Lactobacillus in scotch whisky distilleries ; Friend or Foe?
(Fergus G. Priest - Heriot Watt University)
4. Developments in fermentation process control
(Herb Collicut - Seagram)
5. Yeast nutrition and whisky Flavour
(David R. Berry - University of Strathclyde)
6. Effect of activated carbon and pressure on fusel oil production in wine fermentations
(Alan Barnett - Brown Forman Research Center)
7. The role of magnesium ions in fermentation
(Graeme M. Walker - Dundee Institute of Technologie)
8. Influence of yeast nutrition on the production of alcohol
(Mike Ingledew - University of Saskatchewan)
9. Brettanomyces development during alcoholic fermentation of beet molasses and its control
(M.L. Delia, O. Strehaiano - LGC UA CNRS ENSIGC)
10. Yeast and rhum production survey of some trails
(F. Vidal, L. Bonneau, A. Parfait-Critt-Bac, P. Strehaiano - ENSIGC)
11. Overview of tequila production with an emphasis on the role of yeast
(Cedeno CM - Destiladora Gonzalez Guadalajara)
12. Legal aspects and description of production stages for pisco
(Miguel Cabrera - Pisco Capel)