Practical aspects of wine filtration
Franco France
46,00 €
Franco tous pays
61,00 €
| | |
| --- | --- |
| Auteur(s) auteurs | Bernard Gautier |
| Nb pages nb_pages | 270 |
| Année d'édition anneedition | Non |
| Langue(s) langues | Anglais |
| Autres versions disponibles versions_disponibles | Français, Espagnol |
| Récompenses recompenses | Non |
| Franco France price | 46,00 € |
| Franco tous pays price_expo | 61,00 € |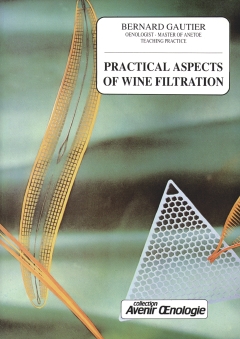 PREFACES
This book is the fruit of a two-fold experience. Through his professionnal work with a large winemaking enterprise where he has been cellar director for a number of years, the author has been confronted with all the problems associated with wine filtration. He decided to share his experiences, with his colleagues, for he is also a freelance teacher, elaborating courses for practitioners as well as students of oenology .
This experience in both practice and teaching, makes Bernard GAUTIER a master of his subject evident in the reading of this book, on one hand by the concern he has for precise technical information and on the other by the clarity with which he expresses facts.
In assuring wine limpidity and brilliance, (important factors in wine quality which influence first appreciation of the product by consumers), this book will be of great assistance to all those responsible for the preparation of one for commerce, and there is no doubt it will have great success amongst practitioners. Teachers will find within his page the fruits of practical experienced, and illustrated examples of theoritical data.
We trust that publication of « Practical Aspects of Wine Filtration » by Bernard GAUTIER will be followed by other works of its type. Oenolgy can only benefit as a result.
Suzanne BRUN
Professor of Oenolgy
UER director of alimentary products and biology
in the Faculty of Pharmacy - Montpellier
President of the Sub Commission for Analysis Methods for the OIV
Rector of the French Oenologists Union
Within wine production enterprises, there is an insufficiently recognised problem - that of giving professionals at all levels access to the very latest and most efficient professional practices. These practices should evolve at the same rate as scientific and technical discovery, together with that of the tastes of consumers, and legal regulation. The time is past when the apprentice, guided by the master artisan, could master his craft completely and definitely.
This was evidently an essential, if not sole focus of legislator when « Continuing Professional Training » was created and set up.
The popular collection « Avenir Œnologie » seeks to respond to a need in offering, in the form of a valuable and precise text, a prodigious amount of accessible and practical information.
The first work in this collection, from our colleague GAUTIER - a recognised practician and master of teaching practice - fills this role. It will be successful, for it is concerned with one of the most often requested subjects within ANETΠcourses.
In due course other titles will appear to complete this new series, but this initiative, from a recognised practitian, makes for a better dissemination of œnological knowledge, and gives us great pleasure indeed.
Pierre BEDOT
Agricultural engineer - Oenologist
First vice-president of the International Oenologists Union
and of the French Oenologists Union
CONTENTS
Chapter I - Overview
The notion of limpidity
Why clarify wines ?
History

Filtration principle - Important notions
• Preparation for filtration of wines from rot-affected grapes
• Improvement of wines' filtrability
Chapter ll - Filtration products
• Origin
• Extraction - manufacturing
- Natural kieselghurs
- Calcined kieselghurs
- Activated calcined kieselghurs
- Chemical composition of kieselghurs
• Kieselghurs control method
- Kieselghur humidity
- Loss during calcining
- Granulometry
- pH
- Density
- Wet volume
- Flow per unit of filtration surface
- Permeability

• Origin - Extraction
• Chemical composition of perlite
• Method of control

• Origin - Manufacturing
• Characteristics of powders of noble filtering cellulose

Kieselguhr

Perlite

Characteristics of the principal filtration agents retailed (Kieselghur, perlite)

Precautions to take whilst using filtration agents (Kieselghurs, perlites)

Cellulose
Chapter III - Mechanism of earth filtration of wines

• Straining effect
• Absorption, Adsorption

• Horizontal bell filtration units
- Vertical plates
• Vertical bell housing filtration units
- Horizontal plates
- Plates or racks vertically disposed
• Candle filtration units
• Press filtration units with hollow frames
• Press filtration unit for the filtration of muds and lees
• Rotary drum filtration unit

• Vertical plates
• Horizontal plates

• Preliminary study
- Filtration unit evaluation
- Environment, the problems of decrease in load capacity
• Definition of filtration technique (Case study)
• Laying down of specifications to give to constructors or suppliers
• Technical questionnaire to give to constructors
• Comparative study

• Kieselghur choice
• Primer
• Different examples of traditional primers
• Mixed process, kieselghur plus filtering powder Becofloc 10 Af, adapted to filtration units with horizontal plates
• Procedure allowing a more efficient placement of the pre-coating layer for earth filtration units with horizontal plates
• Dosage
• Two methods to approach optimum dosage
- 1st method
- 2nd method
Theoretical curve of filtration
• Technical checking docket allowing the follow-up and the control of filtration cycles
• Particular procedure of layout for alluvial filtration
• Study of the different anomalies encountered in the filtration layout and their consequences
• Filtration control
- Nepheolometry
- Blocking index
• Semi-automation, automation of the filtration layout

• Agent compressibility
• Distribution of the cake
• Problem factors
- Irregularities in the passage of liquid through the filtering surface
- Turbulence in the filtration chamber
- Sedimentation tendencies of filtration agents

Mechanism

Supports for the filtration agent and process of earth filtration

Study of differents types of earth filtration units

Explanatory diagrams of the operation of two types of earth filtration units, most commonly encountered in oenology

Installing a filtration unit

Filtration layout

Technique for the chemical cleaning of earth filtration unit
The affect of filtration agents on the support during filtration
Chapter IV - Out lay of deep wine filtration using sheets or cartridges

• Filter plates
• Lenticullar refills

• Filtering plates
• Lenticullar refills
• Manufacture control

• Sifting
• Direct interception
• Sedimentation
• Inertia
• Turbulence
• Adsorption electrostatic effect, Zeta potential

• Roughing plates or refills with high yield
• Clarifying plates or refills
• Sterilizing plates or refills

• Filter plates
- Dimensions
- Flow by surface unity
- Differential Pressure
- Filtered volume
• Lenticullar refills
- Outline and sizes of refills
- Flow by surface unity
- Differential pressure
- Filtered volume or cycle length

• Filtration unit with plates
• Filtration unit with lenticullar refill

• Filtration unit with plates
- Setting up the plates
- Rinsing
- Sterilization
- Wine filtration
- Recycling
• Filtration unit with lenticullar refills
- Setting up the lenticullar refills
- Rinsing
- Sterilisation
- Wine Filtration
- Recycling

Composition

Manufacturing

Retention mechanism for plates and lenticullar refills

Different types of filtering plates or lenticullar refills

Important parameters for deep wine filtration

Unit Description

Setting up a filtration unit with plates or with lenticullar refills
layout of deep filtration over plates or lenticullar refills

Filtration with a reversal chambre on a filtration unit with plates controls-tests on plates or on lenticullar refills
Comments on these two types of media plates - lenticullar refills
Chapter V - Frontal filtration of wines over organic membranes

• Definition
• History
• Evolution

• First process, manufacturing of a total screen membrane
• Second process, manufacturing of homogeneous membranes

• Thickness
• Porosity
• Filtering surface
• Pore diameter
• Pressures used
• Module structure

• Test of the blocking index
• Test of the modified blocking index
• Test of filtrability, V max

• Pore diameter in oenolgy
• Sterilisation of the lenticullar refills
• Integrity test
• Working pressure
• Recycling
• Refill cleaning by ultra-sound
• Advises for setting up an installation
• Layout of the high resolution filtration unit
• Microbiological controls
• Microbiological norms for high resolution filtration
• Problems of costs, cycle length

• Introduction
• Different types of modules
- Refills for deep filtration
- Refills equipped with pleated prefiltration membranes
• Problems of costs, cycle length

Overwiew

Manufacturing

Characteristics

Wine preparation

Wine control before membrane use

High resolution filtration

Membranes or prefiltration refills
Chapter Vl - Tangential filtration - Wine application

• History
• The different techniques of separation by membrane in tangential flow
• Principle of the tangential filtration
• Comparison between direct filtration and tangential filtration
• The different types of membranes
• Membrane characteristics
• Polarization phenomenon on the membrane
• Blocking
• Pararneters intervening in substance transfer through the membrane

• General description of an ultra-filtration installation and of a tangential micro-filtration
installation
• Different configuration of equipment used in ultra-filtration and tangential micro-filtration
• Table of different systems of ultra-filtration and tangential micro-filtration

• Introduction
• Tangential filter with rnineral membrane
• Tangential filter with organic membrane
- Sartorius
- Tangential filtration tests : KOCH (Ex ROMICON)
- Tangential filtration tests : FILTROX
• Possible diagrams of wines treatment

Généralités

Equipment configuration - apparatus use

Tangential filtration in oenolgy

General conclusions
Chapter VII - Different wine bottling processes

Bottling with heat treatment
Bottling at ambient temperature
Bottling by flash pasteurisation 1st process
Bottling by flash pasteurisation 2nd process
Bottling with deep filtration (sheets)
Bottling with deep filtration (cartridges
Bottling with sterile filtration over membrane of final filtration 0,65 or 0,45 micron
Bottling with tangential filtration and membrane of final filtration 0,65 or 0,45 micron
Industrial index