Grape Varieties and Rootstock Varieties
Franco France
66,00 €
Franco tous pays
90,00 €
| | |
| --- | --- |
| Auteur(s) auteurs | Pierre Galet |
| Nb pages nb_pages | 320 |
| Année d'édition anneedition | 1998 |
| Langue(s) langues | Anglais |
| Autres versions disponibles versions_disponibles | Français, Espagnol |
| Récompenses recompenses | Non |
| Franco France price | 66,00 € |
| Franco tous pays price_expo | 90,00 € |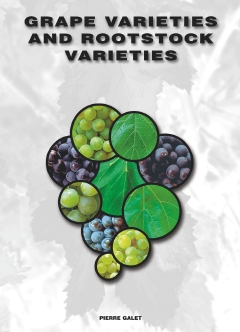 PREFACE
In order to cultivate grapes successfully, whether for direct consumption (table grapes) or for wine and spirit production (wine grapes), it is essential to have a knowledge of grape varieties. A number of grape varieties are now grown throughout the world for the quality of the resulting product, and it is mainly the varieties that have made a name for the great wine producing regions of France that will be studied in this book, together with the principal table grapes cultivated in vineyards throughout the world.
A chapter is dedicated to the study of hybrid direct producers of both French and American origin. These produce grapes and wines of lower quality, but have the advantage of tolerating bad weather (cold winters and heavy rain) and the resulting diseases (e.g. frost damage, downy mildew and rot) that make cultivation of European vine varieties impossible.
In almost all vineyards in the world, vines have to be grafted to control phylloxera, an insect which kills the roots of European vines, and it is therefore necessary to be acquainted with the aptitudes of rootstocks.
The vine-grower should not be content with referring to literature on the cultural and oenological characteristics of the grape varieties he wants to cultivate, but must be able to recognise the vines he has been sold from their appearance so as to avoid any errors in delivery.
This book looks at all these questions. It represents the results of my observations, initially made in the course of monitoring nurseries in France and later while teaching ampelography for over 40 years to future agricultural graduates of the Ecole Nationale Supérieure Agronomique de Montpellier. Six editions of my Précis d'Ampélographie Pratique have been published since 1952, and in 1979 an American edition, 'A Practical Ampelography', translated by Lucie Morton, was published by Cornell University Press, Ithaca (NY). Some of the grape variety descriptions that follow have been taken from the American edition with the kind permission of Lucie Morton-Garrett, who is still actively involved in viticultural matters and whom I should like to thank most warmly.
This book differs slightly from the last French edition. To make it more international, a few regional French grape varieties of limited interest have been omitted (Abouriou, Bouchalès, Grolleau, Jurançon noir, Merlot blanc, Admirable de Courtiller, Gros Vert, Olivette noire and Perle de Csaba), while certain varieties cultivated in vineyards outside France have been added (Carmenère, Burger/Monbadon, Marsanne, Müller-Thurgau, Roussanne, Sauvignonasse, Savagnin, Viognier, Emperor, Flame Tokay, Perlette and Sultanine/Thompson seedless).
Hybrid direct producers are cultivated less and less in France and are rarely replanted. However, their cultivation remains of interest in northern vineyards, where severe winters kill European vines (for example Canada, north-eastern USA, Russia, Moldavia, Siberia and South Korea), and in tropical vineyards which suffer from heavy summer rain (e.g. Brazil, Madagascar, Reunion, southern India, Thailand, Vietnam, Japan and Taiwan).
The chapter covering the definition of the botanical characteristics used to describe each variety is important. From these characteristics, a key can be drawn up to identify vines in the vineyard during the vegetative period. For computer enthusiasts, I should like to point out that an identification diskette is available in English or French, produced in Minneapolis by Professor Bill Smith from the 1979 American edition.
On a final note, I should like to thank Mr Arnould, Director of Revue des Oenologues and Bourgogne Publications for publishing and distributing this English edition. I should also like to thank Jaqueline Smith who has taken on the task of translating it.
Montpellier, 24 April 1998
Pierre GALET
Agricultural Engineer
Docteur ès Sciences
CONTENTS
Preface to the English edition
Chapter 1: Introduction to the study of grape varieties
Description methods
Classification methods
Grape variety names
Grape variety synonymy
The grape variety and its clones
Chapter 2: Phenotypical classification
Ampelographical Definitions

Hairiness of vine parts
Ampelometric measurements of the leaf
Study of flowers and mature grape clusters

Description plan

The growing tip
Young leaves
The adult leaf
The shoot and cane
Inflorescences and flowers
Grape clusters and berries
Seeds
Chapter 3: The genus Vitis and American species
Characteristics of the Vitis genus

Vitis section
Muscadinia section

American species

Phenotypical classification key for the principal American species
Classification by leaves
Classification by canes
V. aestivalis Michaux
V. Berlandieri Planchon
V. candicans Engelmann
V. cinerea Engelmann
V. cordifolia Michaux
V. Labrusca Linnaeus
V. monticola Buckley
V. riparia Michaux
V. rotundifolia Michaux
V. rupestris Scheele
Chapter 4: Vinifera wine grape varieties
Phenotypical classification of wine grape varieties
Classification of wine grape varieties by lateral sinuses and hairiness of leaves
Classification by shape of petiolar sinus and lateral sinuses
Alicante Bouschet
Aligoté
Aramon
Cabernet franc
Cabernet Sauvignon
Carignan
Carmenère
Chardonnay
Chenin
Cinsaut
Clairette
Colombard
Cot
Folle blanche
Gamay noir
Gamay Teinturiers
Gamay de Bouze
Gamay de Chaudenay
Gamay Fréaux
Gewürztraminer
Grenache
Macabeo
Marsanne
Mauzac
Melon/Muscadet
Merlot noir
Meunier
Monbadon/Burger
Mourvèdre
Müller-Thurgau
Muscadelle
Muscat blanc à petits grains
Muscat of Alexandria (Muscat d'Alexandrie)
Pinot noir
Pinot gris
Pinot blanc
Piquepoul noir
Riesling
Roussanne
Sauvignon
Sauvignonasse
Savagnin
Sémillon
Sylvaner
Syrah
Tannat
Terret gris
Ugni blanc
Valdiguié
Viognier
Chapter 5: Vinifera table grape varieties
Phenotypical classification key for Vinifera table varieties
Classification by depth of lateral sinuses and hairiness of leaves
Classification by berries
Alphonse Lavallée/Ribier
Cardinal
Chasselas doré
Dattier de Beyrouth
Emperor
Ahmeur bou Ahmeur/Flame Tokay
Italia
Muscat Hamburg
Muscat Reine des Vignes
Perlette
Servant
Sultanine/Thompson Seedless
Chapter 6: American and French hybrid direct producers
Phenotypical classification key for French and American hybrid varieties
American hybrid varieties

Black Spanish/Jacquez
Herbemont
Catawba
Concord
Isabella
Delaware
Noah
Othello

French hybrid varieties

Baco noir/Baco 1
Baco blanc/Baco 22 A
Couderc noir/7120 C
13 Couderc
Chambourcin/26.205 J Seyve
Maréchal Foch/188-2 Kuhlmann
Léon Millot/194-2 Kuhlmann
Oberlin noir/595 Oberlin
Ravat blanc/Ravat 6
Vignoles/Ravat 51
Rosette/Seibel 1000
Rayon d'Or/4986 Seibel
Aurore/5279 Seibel
Plantet/5455 Seibel
Rougeon/5898 Seibel
Chancellor/7053 Seibel
Colobel/8357 Seibel
Seinoir/8745 Seibel
Verdelet/9110 Seibel
De Chaunac/9549 Seibel
Chelois/10.878 Seibel
Cascade/13.053 Seibel
Seyval/5276 Seyve-Villard
Villard blanc/12.375 Seyve-Villard
Garonnet/18.283 Seyve-Villard
Villard noir/18.315 Seyve-Villard
Varousset/23.657 Seyve-Villard
Vidal blanc/256 Vidal
Chapter 7: The rootstocks
Phenotypical classification key for rootstock varieties
Rupestris du Lot
Riparia Gloire de Montpellier
The Riparia-Rupestris rootstocks

3309 Couderc
101-14 Millardet et de Grasset
44-53 Malègue
196-17 Castel

The Berlandieri-Rupestris rootstocks

99 Richter
110 Richter
1103 Paulsen
140 Ruggeri

The Riparia-Berlandieri rootstocks

420 A Millardet et de Grasset
161-49 Couderc
5 BB Selection Kober
SO 4
5 C Teleki
125 AA

The Vinifera-Berlandieri rootstocks

41 B Millardet et de Grasset
Fercal

The Rootstocks miscellaneous

Vialla
Aramon-Rupestris Ganzin No. 1
1613 Couderc
Dog Ridge
Gravesac
Chapter 8: Choosing a rootstock
Nature of the soil

Phylloxera resistance
Nematode resistance
Adaptability to chalky soils
Soil acidity
Salt resistance
Drought resistance
Adaptability to damp conditions
Root rot resistance
Mineral deficiencies

The vine

Graft incompatibility
Vigour
Vine apoplexy and tylosis
Colour Plates
Bibliography
List of figures
List of colour plates
Index